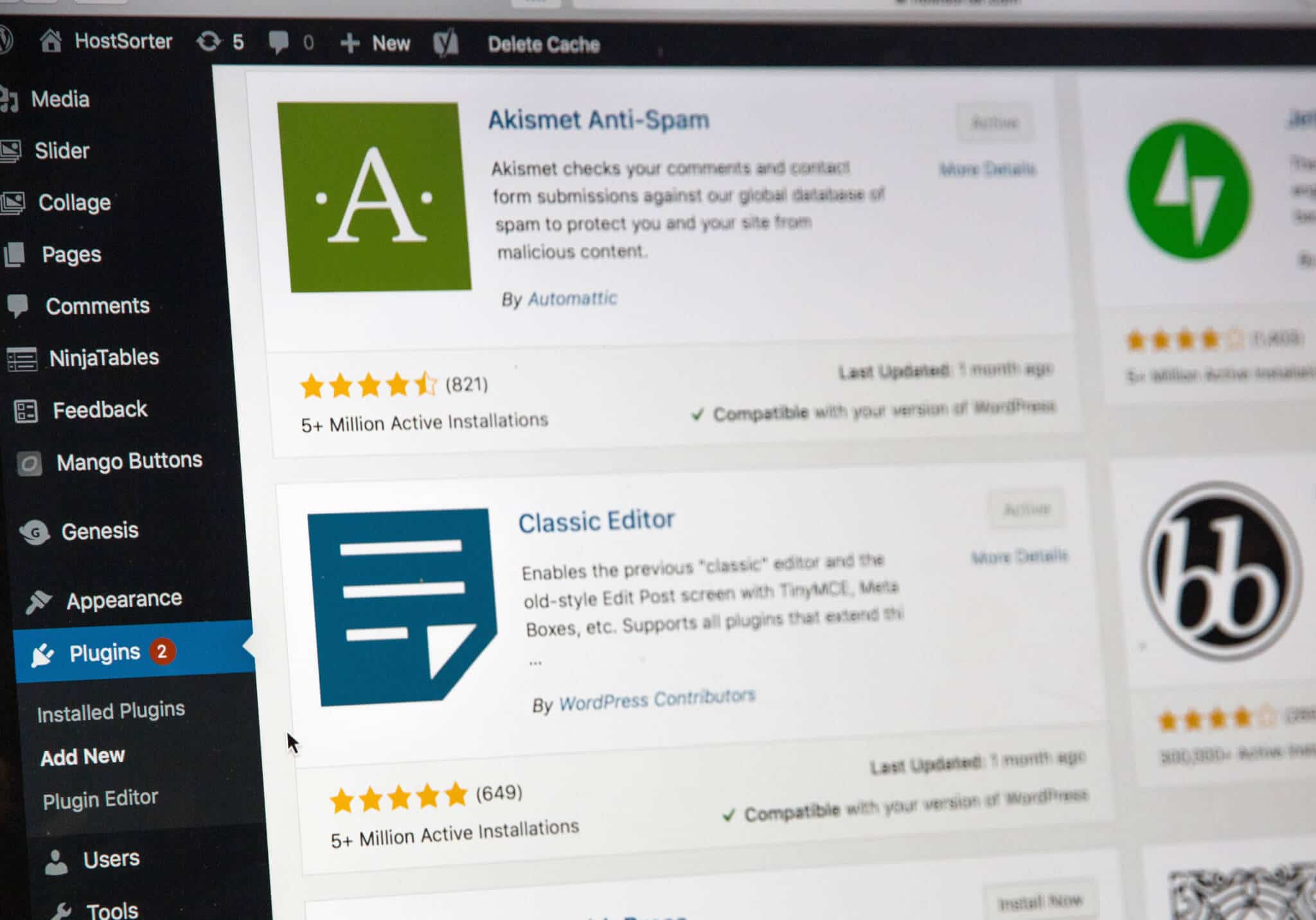 WordPress is a popular and free program that allows you to build a website and then maintain it. This is done according to the open source Content Management System (CMS), which means that you yourself can build a website on the WordPress platform. What WordPress entails, what the benefits are and how exactly you can use WordPress to set up a website, you can all read in this article.
What exactly is WordPress?
As we mentioned, WordPress is a program that allows you to build and maintain your own website. This can be a website, a blog site or a webshop. the advantage is that you hardly have to have knowledge about creating websites yourself. WordPress itself uses PHP as a programming language, but you don't necessarily have to do anything with it.
Because WordPress is open source, anyone can use the WordPress base code and customize it to their own needs. You can do this by installing themes or plugins that help you shape the website, blog site or webshop that you want.
Why use WordPress?
WordPress is already used by about 30 percent of all internet pages together. The program is therefore extremely popular and that is not for nothing. Below you will find a few major advantages of WordPress.
1: Free and open source
To build your website via WordPress you don't have to pay anything. You end up only paying for things like hosting or your domain name, but setting up the website is otherwise free. Thanks to the Open Source of WordPress, you can easily customize the code to your own wishes.
2: Flexible and options to expand
With plugins and themes you can transform your WordPress website into your ideal website. There are thousands of extensions available. These are available both free and paid, each with different options and features. Each plugin has its own function, for example to streamline the functions of your webshop or to be found better in search engines.
3: Easy to use
WordPress is extremely popular because almost everyone can easily put together a website via the program. The installation only takes a few minutes and all further steps are clearly described.
4: Lots of help available
The popularity of WordPress has ensured that entire web pages with all kinds of information, step-by-step plans and explanation texts about WordPress are sufficient, such as this one! So if you run into something or something doesn't work, chances are that with a simple Google command you can immediately find out what goes wrong.
How does WordPress work exactly?
WordPress works on the basis of three main components. These components are the editor, the use of plugins and the use of themes.
WordPress Editor
Through the standard WordPress editor you get all kinds of possibilities to set up and shape the content of your web page. This not only applies to standard things such as text, but you can also make lists, work with (sub)headings or upload images. Again, WordPress is very easy to use. Almost everyone who has ever worked with standard text programs such as Word, Pages or Documents can also use the WordPress editor.
WordPress theme
The theme of a website refers to the design or appearance of the website. Within the theme, a combination is made of functionality (how easy is everything to find?) and design (what does it look like?). There are all kinds of different themes for WordPress. Each theme has its own look and functionality. You can choose sleek and minimalistic, or colorful and full of information.
Themes can be free, but they often have a lower quality or a less strongly implemented main theme. You are therefore often better off with a Premium theme, which you can buy for around 50 euros. If you have even more budget, there is also the option to have a custom theme developed. If you're good at coding in HTML, PHP, or CSS, you can also develop your own theme.
WordPress plugins
With plugins, you actually add small extra pieces of functionality into your website. You can download plugins through third parties, which offer you an option to enrich your site. There is a suitable plugin for almost everything: for contact forms, share buttons, SEO optimization, payments, webshops, spam blockers… Think of it and it's almost always there. With a few clicks, a plugin is already installed.
Create a website in WordPress
To set up your WordPress website, three important parts are needed. Firstly, a hosting package, on which you can build the site. Then you also need a domain name. Here you can reach your site for visitors via. Finally, you also need software with which you want to build the website, although in this case that is WordPress itself.

Hosting and domain name arrangement
With the hosting package you hire a partner who arranges a piece of space for you on which you can build your website. Compare it to renting a piece of land: after you have rented it, you can do what you want on it. People can reach your piece of land by typing the address into their browser. Instead of a street name with house number, that's your domain name. You can come up with this domain name yourself, although it must end in, for example, .nl, .be, .com, .net, .eu or one of the other options.

Getting started on your website
Have you arranged a hosting package and a domain name? Then you can get started on WordPress! How you do this depends on how you have arranged your WordPress website. For example, if you have bought hosting in combination with WordPress or another combination bundle, it depends on the party what needs to be done now. In most cases, you will receive an email with follow-up steps. Otherwise, you can set up the website yourself.
To log in to your website, enter your domain name plus /wp-admin after your domain name. For example, if your domain name is ditiseenvoorbeeld.nl, enter ditiseenvoorbeeld.nl/wp-admin. From here you can adjust the website. You can choose from Pages, where you can logically add new pages to your website, and Posts, which allow you to shape the content of a page. Furthermore, it is entirely up to you how you set up your own website, so get inspired by all the options and expansion options and go for it!
The following manuals may also be of interest to you: