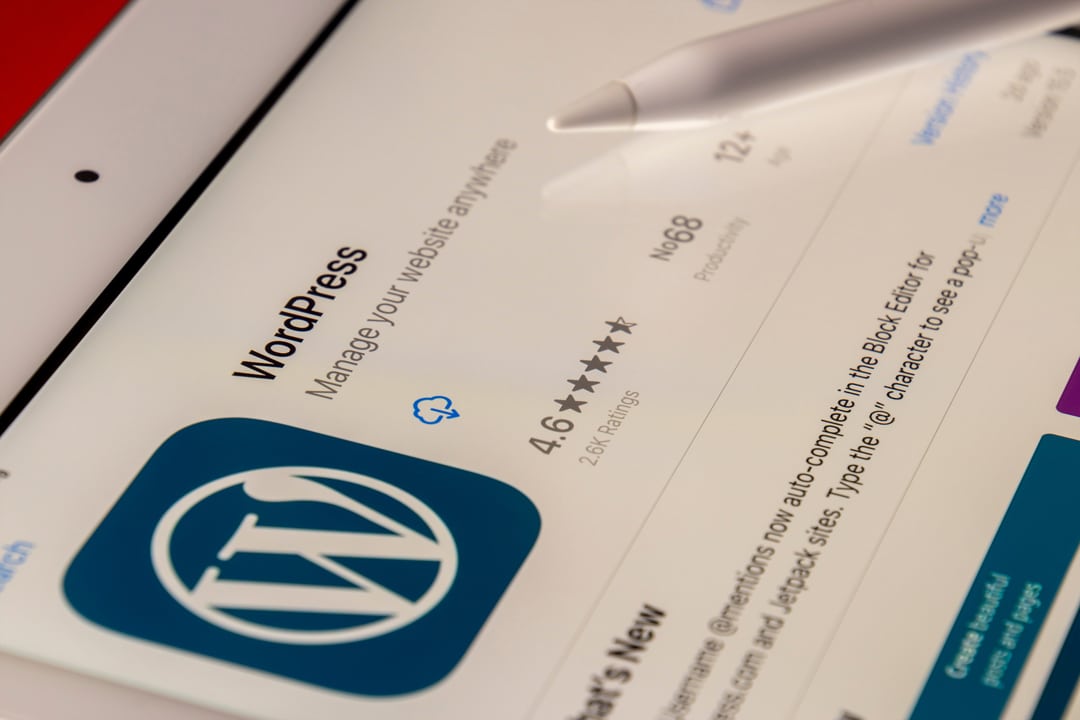 WordPress has proven to be extremely popular in the last few years to build websites yourself. This is due to the simple nature of the website. The Content Management System, CMS abbreviated, of WordPress not only works easily, but is also free. Installing WordPress can be done in several ways. In this article, we'll first explain why you should choose WordPress, what you'll need upfront, and we'll conclude with step-by-step plans to install WordPress in different ways.
Why should I choose WordPress?
WordPress is, as we mentioned, extremely popular with website builders. They have several good reasons for this. This makes the CMS platform easy to use and above all free. With the help of external plug-ins or themes, you can easily give your website a personal touch. Due to its popularity, the website is well maintained and often provided with new features. All this makes WordPress a very good choice when you want to set up a website.
Please note: this is a website via wordpress.org, not a wordpress.com website. WordPress.com websites are often free and do not require further installation, but they do have a lot of disadvantages. For example, you do not have the flexibility in personalizing your website, you often cannot install plugins and you automatically get wordpress.com acquired in your domain name. You can buy off these things via extra packages, but then it is often cheaper to arrange your hosting yourself. Tips to choose a good hosting party can be read below.
How do I install WordPress?
Before you start building your WordPress page, you need to arrange a few more important parts for your website. One of them is your domain name. This is the address where visitors can find your website, such as facebook.com or google.com be. When choosing a domain name, make sure you choose a strong, unique yet easy-to-remember name. Of course, you want people to be able to find you and then remember you.
In addition, you also need a hosting package. Here you have a lot of choice of providers. They each try to offer a competitive price with different functions. So look for the best price or the best features that fit your website. You can do this by visiting the websites of individual providers yourself, or by using a comparison website. Have you come up with a domain name and chosen a hosting provider? Beautiful! Then we can proceed to installing WordPress.
Different ways to install WordPress
You have multiple choices to install WordPress on your device. The easiest way is when you support web hosting WordPress. You can then install WordPress almost automatically with a few clicks. If your web hosting does not support WordPress, you can manually install the program in multiple ways. We work out all the options step by step for you.
Installing WordPress through your web hosting
For this you have to support web hosting WordPress, but in most cases this is also the case. You can then download WordPress with the data you received from the web hosting. With this you can then log in to the control center or another installation wizard that is indicated. Select the script for WordPress, agree to the installation and almost everything else will be downloaded automatically for you.
Can't find the script anywhere? Then contact your web hosting. They can help you find the script or even install it with you.
Installing WordPress via FTP client
Not every web hosting supports WordPress in the package. In that case, you'll need to install WordPress via an FTP client. This File Transfer Protocol helps you transfer files from your computer to the host for your website. A well-known FTP client that is often used for WordPress websites is FileZilla, but there are many more.
To start with, you first have to decide whether you want to build your website in Dutch or English. Then download the files from the official WordPress website. Also, install an FTP client directly. To be able to install WordPress in the future, you need a database where your files can be uploaded. This is called a MySQL database. For this you have to go to 'Databases' within the control panel. Search here for 'MySQL databases'. Here you create a new database and user, which you link by selecting them and then clicking on 'Add'. These details will be requested in the next step-by-step plan, so keep them handy.
Time needed: 10 minutes
Once you've gone through all this, you can install the WordPress files via the FTP client. To do this, follow the step-by-step plan below:
Open the WordPress files on your computer
Open the FTP program and search for the connection function. This is the only way you can FTP install the WordPress files
Drag the WordPress files to the root folder of your FTP to save them there
Open your browser (Egde, Chrome, Firefox, et cetera) and fill in the following link:
https://www.jouwwebsite.nl/install.php
Of course, replace 'your website' with your own chosen domain name. Then enter all the information that is requested there.
Click the install button and WordPress will install itself!
Install WordPress locally on your computer
In order to be able to make adjustments to your website, it is useful to be able to do this offline from time to time. For this, you need to install WordPress locally. How do you do this?
You first need a program that can function as a server, that keeps the website running. In the meantime, the website can be adjusted offline. Well-known names are LAMP, WAMP and XAMPP for Windows, or MAMP for Mac.
Then install WordPress on the local server. This is done through the program you just installed. The steps are exactly the same as described above for the FTP client.
After installing WordPress, create a test website. Go to your local website and go to 'localhost/wordpress/wp-admin.' Choose the 'Tools' and then 'Import' to install the WordPress Importer Plugin
To use these files, go back to Tools and Import. There you choose the .xml file that you have downloaded. Then choose 'Upload and import files', select the appropriate user and finally click 'Submit'.
Install WordPress easily
WordPress is a popular CMS and is therefore definitely worth installing. You can do this via the customer login of your web hosting. If the hosting provider does not support WordPress, you can also install it manually via an FTP client. To work on your website offline, you can also install WordPress locally on your computer.
If you can't figure it out with your web hosting, check out our WordPress Hosting service.