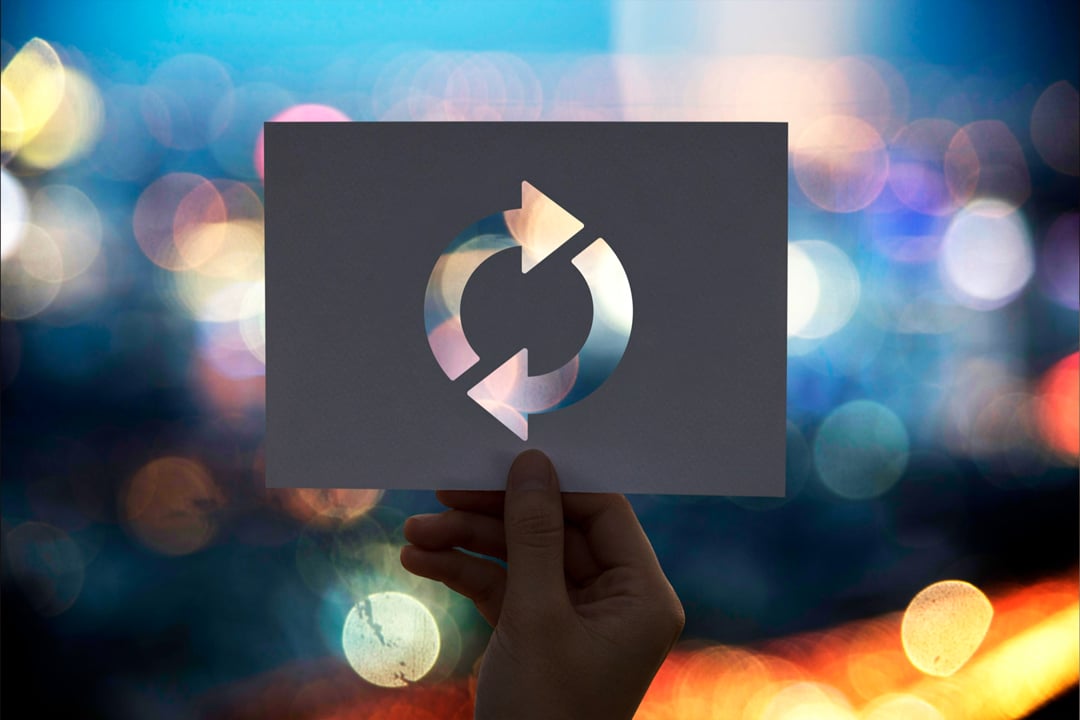 With a theme you can choose a graphical representation of your website within WordPress. You can choose from specific backgrounds, images and styles. This makes your website personal, recognizable and you can also use this style for, for example, your stationery and business cards. With which you also make your WordPress website usable are the plugins. Plugins are pieces of software with which you can extend the functionality of your WordPress website. Updating the plugins and themes of your WordPress website is of great importance. In this article we explain the importance of updating!
Dangers of not updating plugins and themes
There are plenty of plugins for WordPress that you can use. Something for everyone so that every wish can be realized. The bottleneck: Updates of both themes and plugins appear regularly. It is important to implement these updates as soon as possible, if you do not do this, there are disadvantages to this; chances are that your WordPress environment will become unsafe and slow as a result. A paradise for hackers.
Different plugins
There are a number of plugins available that are useful for every user. You can think of plugins that help you to secure your system, make a good backup but also to optimize your WordPress environment. There are also useful plugins available for specific professions or industries. For example, for the photography industry, where you as a photographer can create a beautiful portfolio by using a specific plugin.
Industry specific plugins
But also for restaurants there are specific plugins that really support business operations. And precisely because plugins are so useful, they turn out to be indispensable for business operations over time. Then there is enormous dependency and you can not afford that such a plugin no longer functions properly. Not updating these plugins is therefore not an option if you just want to continue working. In addition, the many notifications in the CMS are also not the most pleasant to look at.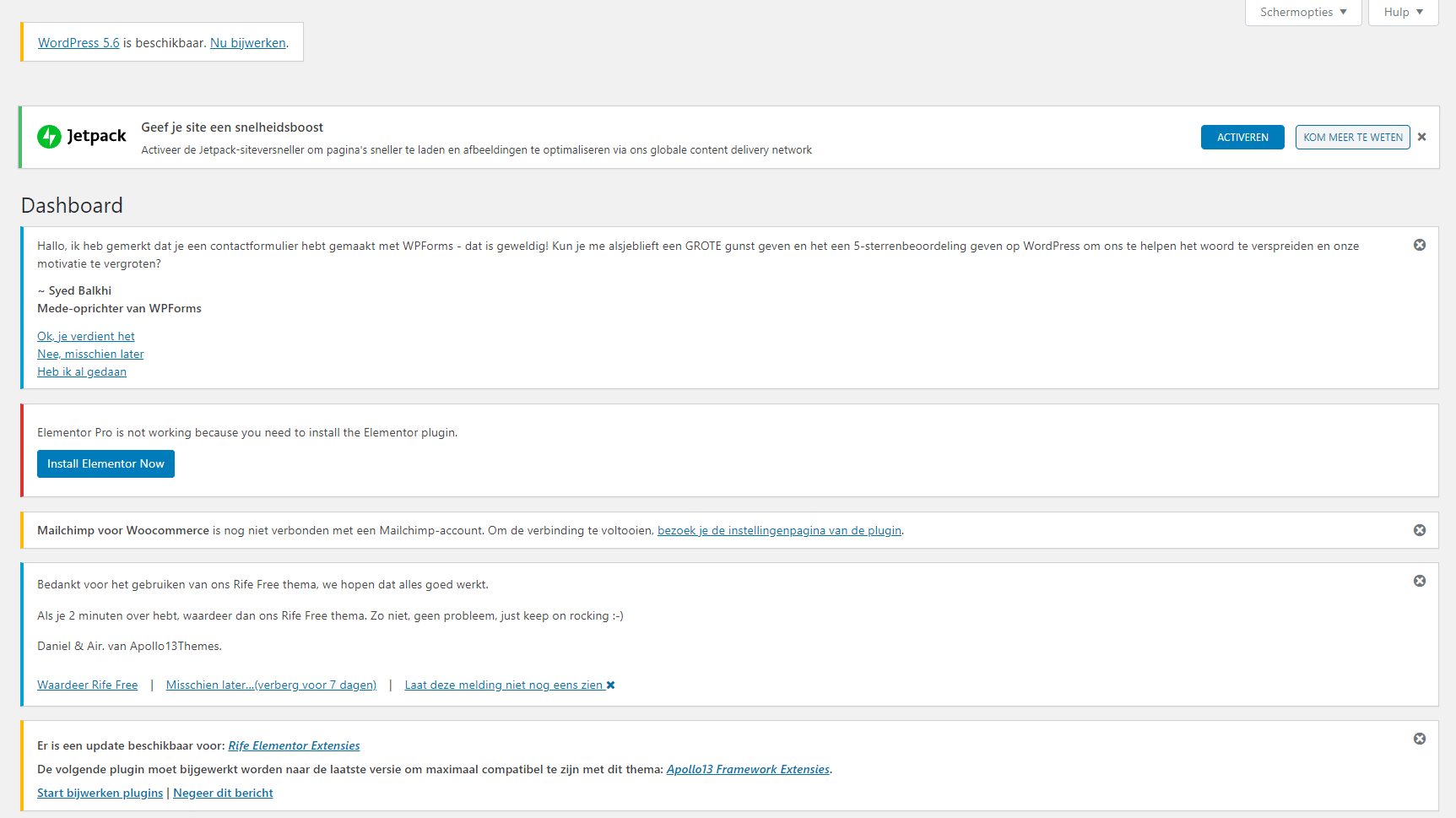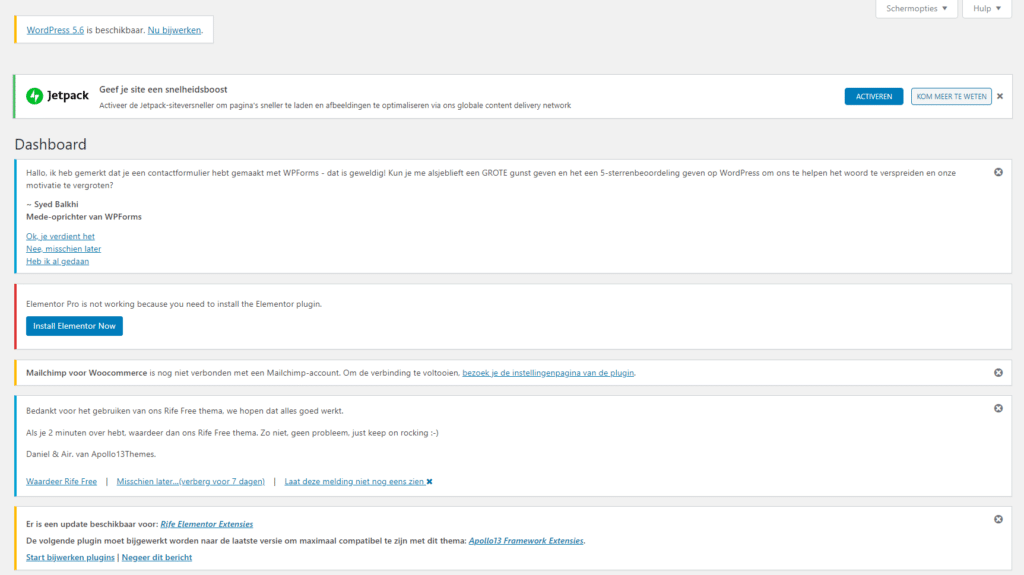 Available updates
If there is an update available of one of the plugins or themes you use, you can find it in the plugins overview on the official WordPress website or within your own WordPress environment.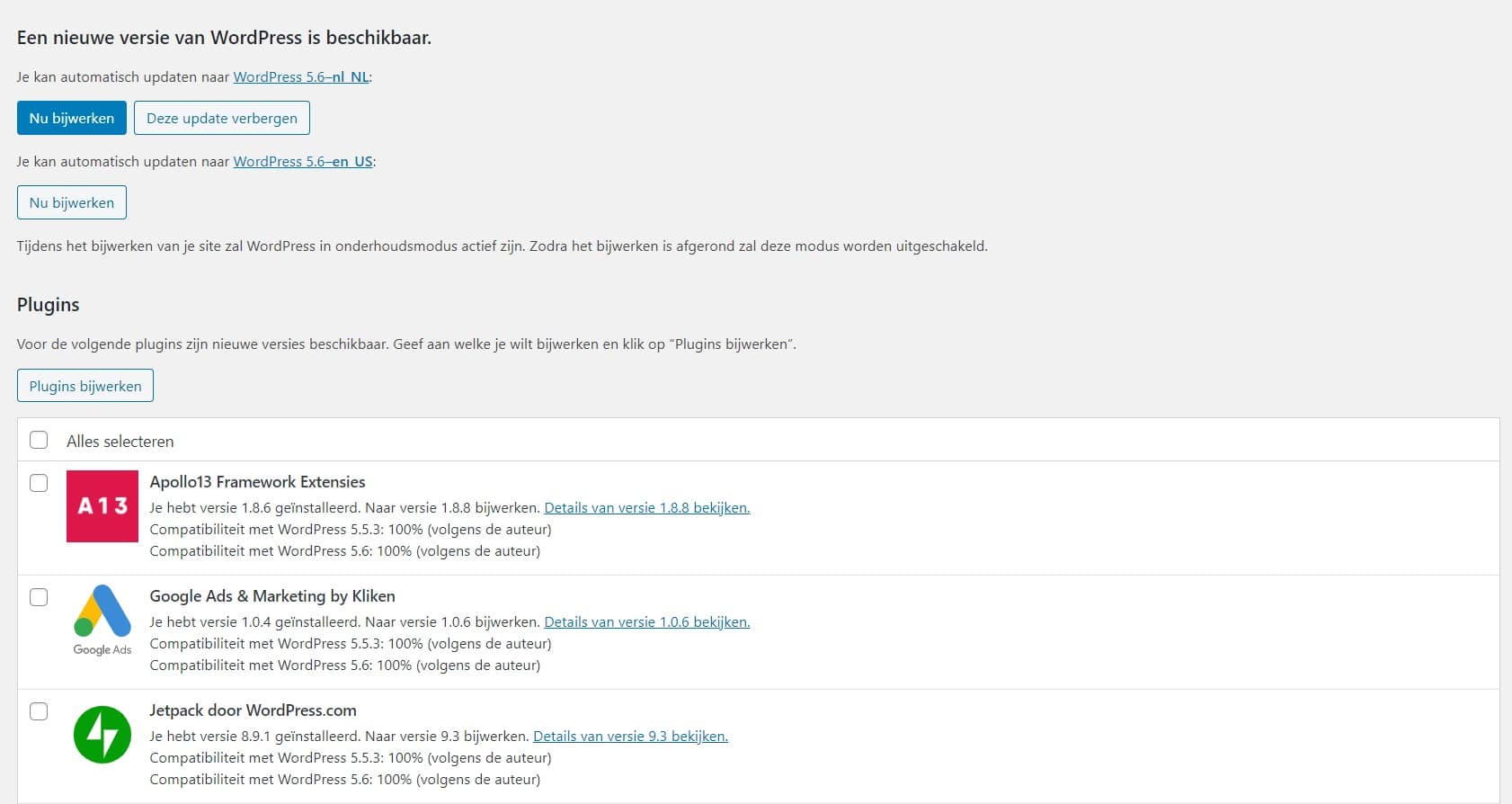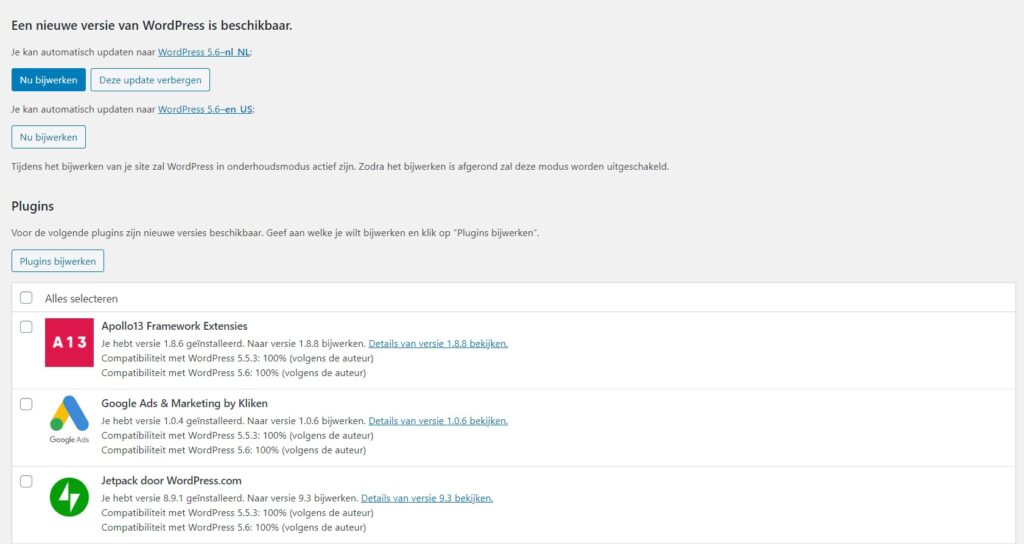 It is useful to take a look at what exactly has been adjusted in the new version, so you will not be faced with surprises once you are back at work with your plugin. By clicking on 'details', you get an overview of the adjustments. It is important to make a backup before implementing the update. A plugin that is not obtained from the WordPress plugin library always means an increased risk that there is a virus in it, or that it causes conflicts with other plugins. With a backup you choose certainty and you can always go back when something goes wrong.


Why is updating important
Whether it's an update of a plugin or a theme you're using, always do the updates. The main reason for doing this is safety. Many websites are cracked via (old) plugins. These are not equipped with the latest security techniques and are therefore easy prey for hackers.

Old plugins can also cause conflicts with other (new) plugins. These are then no longer properly coordinated with each other and can cause disruptions.
Optimal speed
Of course, you want your WordPress environment to be as fast as possible. For visitors to your website this is important, but for yourself this is also just pleasant to work with. To remove delays from your system, it is advisable to remove plugins that you no longer use.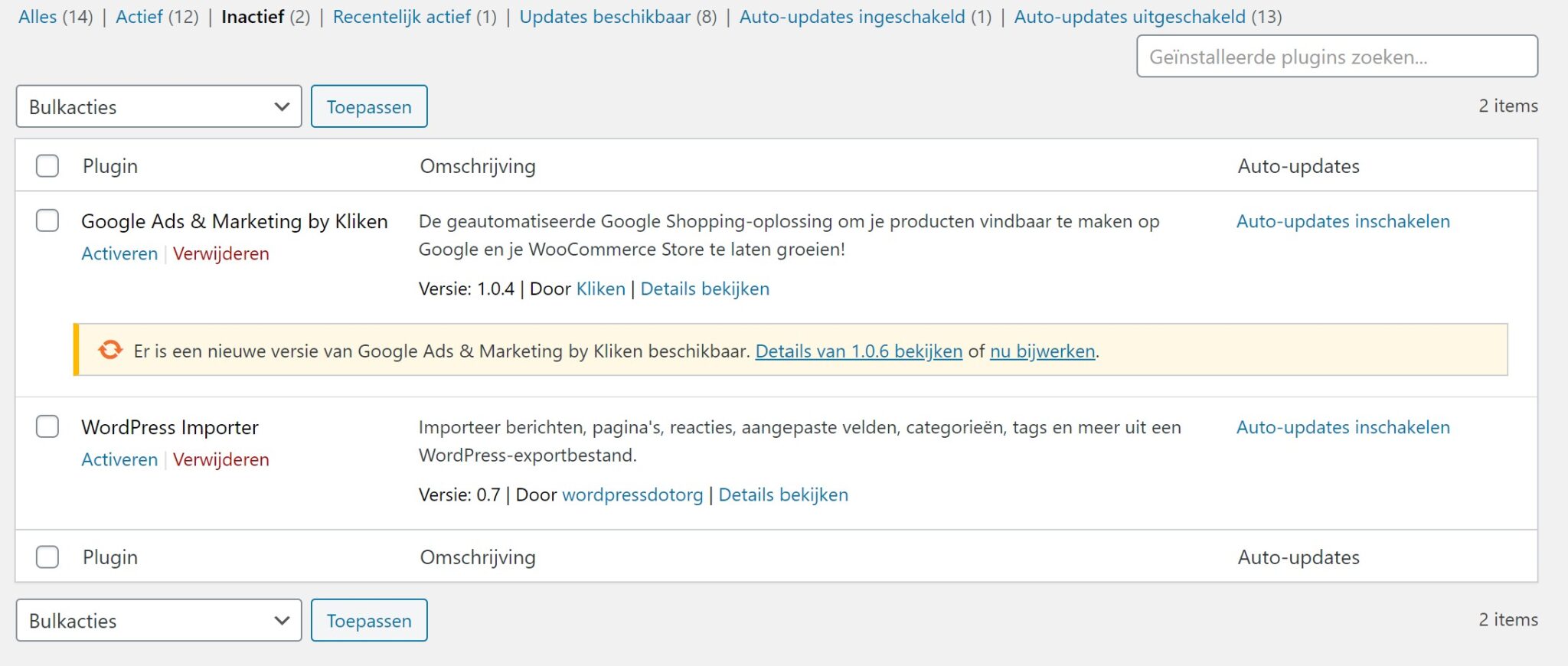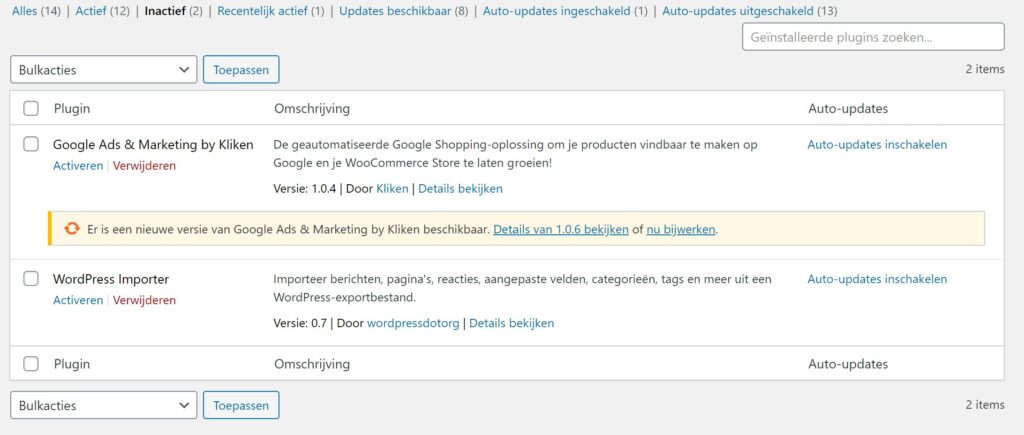 Old unused plugins have a slowing effect and also entail security risks. These old plugins can also cause conflicts within the system. If you only have those plugins active that you actually use, and also the latest version of this, then you achieve the optimal speed at that moment.
Theme updates
For themes, exactly the same applies as for plugins. Also in the field of themes, there are regular updates that you can implement. If you've chosen a specific theme, you'll probably want to keep it for a longer period of time. For example, because this theme has also been implemented in the corporate identity in the field of stationery and business cards. Not implementing an update is therefore not an option.
Security
In addition to the commercial interest, it is also a must in terms of safety and speed to carry out these updates. Not performing updates almost certainly leads to situations that you do not want to get into; hacked systems, delays and conflicts within the software. View our WordPress Security service here.
Optimization
In addition, you should also check whether there are no inactive themes on the website. This can, as with the plugins, cause a slower website and any security risks. It is therefore always wise if you do not use something to remove. View our WordPress Optimization service here.


Support
If you use plugins a lot, updates are crucial for your business operations. Of course, you always want to be able to continue working, without any problems arising in terms of security, speed or data conflicts. We are happy to support you in the field of updates, check out our WordPress Updates service. We perform checks before the update is posted, provide support with a backup and check if conflicts arise after placing the new version of your plugin or theme. This allows you to use that new update with peace of mind!
Quality of HR maintenance
We have a dashboard where you can view your website(s). Try out our dashboard here, the first two weeks are free. Take a look at our maintenance packages, prices and what our WordPress specialists can do. Do you have any questions? Contact us by starting a chat or call us on 030 20 72 488 .