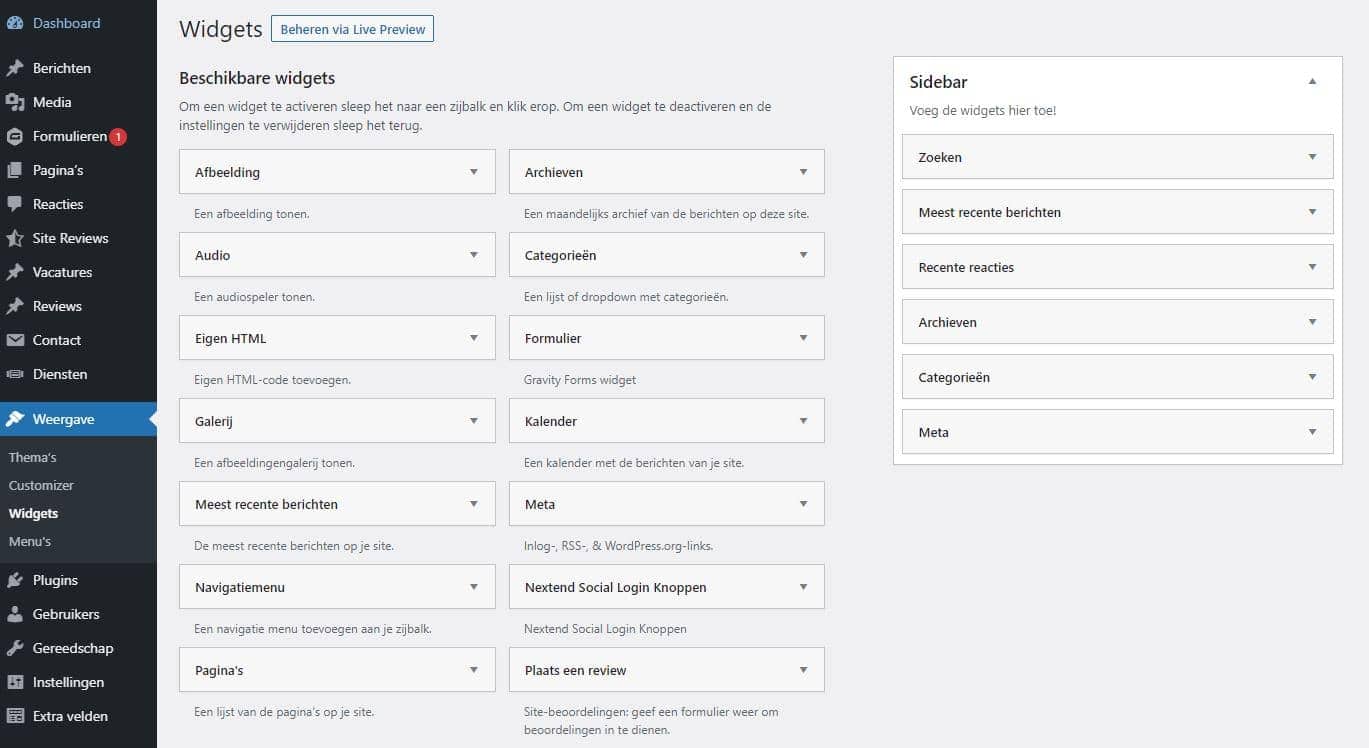 With WordPress you can easily design and launch websites yourself. For WordPress, you don't have to have any experience with creating websites. No coding languages come into play here. You immediately see what the website will look like and you can make all kinds of adjustments to this. WordPress widgets are a very handy addition with which you can add even more to the site. You can read all about it here!
What is a WordPress widget?
A WordPress widget is an application that you can add to the website. The widgets can contain all kinds of information and appear on different pages. It is actually a place where you can post certain content that is otherwise not related to the posts or articles you post. The widgets do not contain any content that you would normally place in an article. For example, a widget is used as navigation in the website.
A widget can appear on any page on the website. There are also certain widgets that you only see on the homepage, for example. You can add widgets in special areas that are indicated in advance. Where you can place widgets depends on the design of your website. There are a lot of widgets that you can immediately add to the website. These are offered by WordPress. There are also possibilities to download widgets yourself.
Why use widgets?
Widgets are very useful applications of WordPress that you definitely want to use. With the help of Widgets you can add more content to pages. This allows you to personalize the website even more. You can also make important parts more prominent on the website. Think, for example, of a widget with recent messages or a widget with a shopping cart. People who visit the website will immediately see all the important parts of the site through widgets. It is also very useful when you want to show the same content on multiple pages.
Make a selection in the widgets you want to add. Adding too many widgets can make it cluttered. So choose the most important widgets for your website and add them in the best places.
How to add widgets?
There are many possibilities when it comes to Widgets. You can add these in different ways and different places. WordPress itself already offers a number of useful widgets. You can easily add this in the indicated widget areas. These widgets include: videos, audios, recent posts, a search box, etc. So first check whether there are widgets here that you would like to use.
Add WordPress widgets with plugins
If you want to add a widget that is not directly offered by WordPress, you can also add it using plugins. You can find the plugins in the plugin library of WordPress. Here you can search for and download a lot of free plugins.
Because there are so many plugins, it can be difficult to find the right one. Therefore, try searching for a number of different keywords with the word 'widget' behind it. It is also good to know that the plugin library also offers sets. In these plugin sets you can often also find widgets. So if you can't find the right widget, it's also wise to look between sets.
Add widgets to the footer and sidebar
When you have chosen a number of widgets, you can add them to the website. There are a number of areas where you can add widgets. These are also called the widget areas. These widget areas will differ per WordPress theme. When you choose a theme, you want to take into account the widget areas.
Usually the widget recommendations are present in the footer and sidebar. If you want more widget areas, it's best to choose a theme that also has widget areas in the header or above the content. For example, if you want to add a search function, it is useful to place it in the header. You must have a widget area in the header.
To add a widget, you can go there the widget page on WordPress. Here you will see a list of all available widgets. You can then place this in different widget areas. You can also place multiple widgets in the same widget area. The handy interface of WordPress makes it possible to drag the widgets around until you are satisfied.
Customize widgets in the WordPress Customizer
Another way to add Widgets is through the Customizer option. You can find this option in the bar at the very top of the screen of the website. You will then see an option where you can add widgets. When you click on it, you will immediately see all widget areas on the website. In each widget area you then have the option to add widgets.
The useful thing about this feature is that you immediately see the widgets appear on the website. You'll know exactly what it's going to look like. This is especially useful when you're not sure which widgets you want to place where. You can easily move the widgets between different areas. This way you can experiment until you have found the perfect layout.
What types of widgets does WordPress offer?
Not sure which widgets you want to add yet? You can see the most used WordPress widgets here!
Recent Posts
The recent posts widget is used very often. Here you can place the most recent articles or blogs. Visitors to the site who see this widget will therefore click on these messages more often. In this way you ensure that visitors will stay longer on the site and will also click on other articles more often.
Recent Comments
The recent comments widget shows the most recent comments on posts. This may not seem very relevant at first glance, but this can encourage visitors to respond more. By prominently displaying the responses, it becomes easier for visitors to participate in discussions.
Call to action
With a call to action widget you can encourage people to take a certain action. You can fill in this widget yourself. For example, you can encourage people to purchase a particular product or sign up for a newsletter. This widget usually consists of a button that the visitor clicks on. You can also add text or images.
Navigation
With a navigation widget you can show visitors different categories or pages on the website. You can fill in these categories yourself. For example, you can categorize different messages per subject. It is also possible to add a tag cloud. Here, people see posts categorized by tags. By adding a navigation widget, people will be more likely to scour around the site.
Media
With a media widget you can add different types of media to the site. Think, for example, of a photo or video. For example, you can place an introduction video in a widget area in the homepage. The visitors will then immediately see these when they visit the website.
Social media
A social media widget makes your social media visible on the website. This is a good way to promote different social media channels, without having to post a separate message. Visitors can follow you quickly on social media. You will have to add social media widgets via a plugin. These are completely free.
Shopping basket
A shopping cart widget is very useful for a webshop where products are sold. In a shopping basket, visitors can see their selected products. By means of a widget, the shopping cart can then be seen on every page. For this widget you can download different types of webshop plugin sets.
Forms
With a form widget, visitors can easily fill out and send a form. This is suitable, for example, when people want to subscribe to a newsletter and you need an email address for that.
Cards
With the card widget you can add a map. You can choose a location that you want to highlight. This is very useful, for example, when you have a store or office and want to make the location known immediately.
Log in
If you have a website where people have an account and need to log in, it's smart to add a login widget. With this widget, visitors can easily log in to any page of the site.
Search
The search function is a must for every website. This widget allows users to search for messages very easily. It is then much easier to navigate the website.
Do not hesitate and let our WordPress specialists advise you in case you need help! Please contact us via live chat, e-mail or call us on 030 20 72 488.